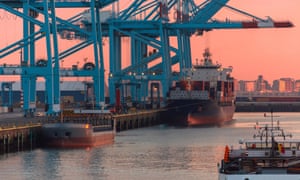 Gridlock at the border, vast motorway car parks and jobs lost: British ports have been vocal about the risks of a hard Brexit. In case Conservative MPs missed the message, the Port of Dover advertised at the party conference, warning that an extra two minutes on lorry inspections could lead to queues of 17 miles at Dover and similar "chaos in Calais and Dunkerque".
Across the North Sea, continental ports are worried about the great unknowns of Brexit. One of the most exposed is the Belgian port of Zeebrugge, which does 45% of its trade with the UK. "We are vulnerable if something happens to the trade from the UK to the continent," said port chief executive Joachim Coens. "So what I mainly hope is that we could continue having a good trade relationship with the UK… as we have been doing for centuries."
The port's UK traffic dropped 1% in the month following the Brexit referendum, a sudden slip after months of steady growth. More than one year on, it has rallied but not quite returned to the June 2016 peak.
Zeebrugge, (literally "Bruges on Sea"), describes itself as a bridgehead for the British economy. Every week 64 container ships and ferries leave Zeebrugge bound for Tilbury, Tyne, Sheerness, Southampton and other UK ports, laden with goods for British shops and warehouses. A daily ferry still crosses from Zeebrugge to Hull, with 800,000 passengers disembarking at the Belgian port each year (including those arriving on North Sea cruises).
This sprawling port complex on Belgium's coast is a hidden link in Britain's everything-on-demand economy. More than 1 million cars go to and from the UK through Zeebrugge. If a British supermarket in Glasgow orders a pallet of washing-up liquid from Zeebrugge's distribution hub before lunchtime, it will be at the shop door the next day. Every bottle of Evian and Volvic water on British shop shelves travels from France, via Zeebrugge. Tens of millions of litres of Tropicana orange juice are bottled for British breakfast tables at the port, after the juice has been shipped in from Brazil.
In the worst-case scenario – of no deal – the port would be hit by the resumption of WTO tariffs – 10% on cars to 25-30% on orange juice. This kind of "fighting divorce" would be "bad news for the port, but mainly for our producers and exporters", says Coens. Around 5,000 jobs at the port are linked to trade with the UK.
The sharp devaluation of sterling is already rippling through to British consumers: consumer goods companies based at the port are selling slightly smaller products for the same money – known as "shrinkflation" – including orange juice and chocolate bars.
For the industry, the outlook can appear as murky as an overcast day on the North Sea. "Nobody knows what Brexit will be, what will come after it," says Isabelle Ryckbost, the secretary general of the European Sea Ports Organisation. "What we know it that you will have to reorganise your port to do the border checks. It is not very clear how important these additional checks will be. Will there be an agreement between a UK port and an EU port to facilitate these checks? Then you have phytosanitary checks (on plants and plant products) – will the legislation be different?"
If the British remained aligned to European standards, "then the checks are "not so burdensome", she said, but for now this remains "very unclear".
There is also anxiety about the fortunes of Flanders, Belgium's largest and most prosperous region. Belgium and the Netherlands are among the countries that will be hardest hit by Brexit, with only a few others, including Ireland, expected to do worse. A recent study from the University of Leuven found that Belgium could lose 2.35% of GDP under a hard Brexit. The researchers warned that the impact on the EU27 had been underestimated, although the UK remained the biggest loser. "Higher tariffs on the UK are the last thing we want," the minister-president of Flanders, Geert Bourgeois has said, citing Zeebrugge's port and the region's export-dominated economy.
However, Zeebrugge is less concerned about the resumption of customs checks – "I think we can handle that," says Coens. The Belgian port could even take business from Calais, he suggests, because it specialises in people-free freight – "roll on, roll off" in industry jargon – removing problems about drivers having to clear UK border controls.
Meanwhile, Zeebrugge is fast-tracking the development of apps and scanners to further reduce paperwork. It is developing a UK-specific programme for every stage of the logistics chain, which would allow goods to clear customs even when lorries are miles from the port.
He hopes Brexit will push the UK government to do more to help manage migrants trying to reach Britain. From an open port 10 years ago, Zeebrugge is now fenced off and locked down, with advance police checks required to access certain areas.
"We are not doing a lot of controls – public and private sector together – for the Brits," says Coens, saying he would like to see the British government doing more, whether that means moving the border back to the UK or getting British officers on Belgian soil.
It was a message he passed on to the EU's chief negotiator, Michel Barnier, who paid a visit in July.
Coens is optimistic about the future, citing Zeebrugge's increasing traffic with Ireland and other countries, including Turkey and Iran. In July, the first cargo train from China – loaded with Daqing-made Volvo cars – chugged into Zeebrugge, making this windswept corner of Belgium a final stop on the silk road.
Source: The Observer, 7 October 2017