DP World London Gateway Port, reduced its carbon emissions by 28% per TEU (twenty foot equivalent unit/container) in 2016.
This substantial reduction in emissions per container handled was captured by The Planet Mark™, meaning that DP World London Gateway Port has achieved continued certification to the internationally recognised sustainability certification programme.
The Port was found to have cut its emissions per TEU by more than a quarter in 2016 versus emissions recorded in 2015.
A significant increase in the number of containers being handled by the port – ensuring savings through increased efficiencies and economies of scale – as well as the introduction of hybrid-electric shuttle carriers to the port's operations, better recording and tracking of energy use, and reduced energy consumption in buildings, all contributed to a reduction in carbon footprint.
Last week, port technology supplier Kalmar revealed it would be trialling the world's first ever fully-electric shuttle carrier at DP World London Gateway Port and solar panels have recently been fitted to the top of terminal tractors to assist with electric power to the tractor cabs when their engines are off.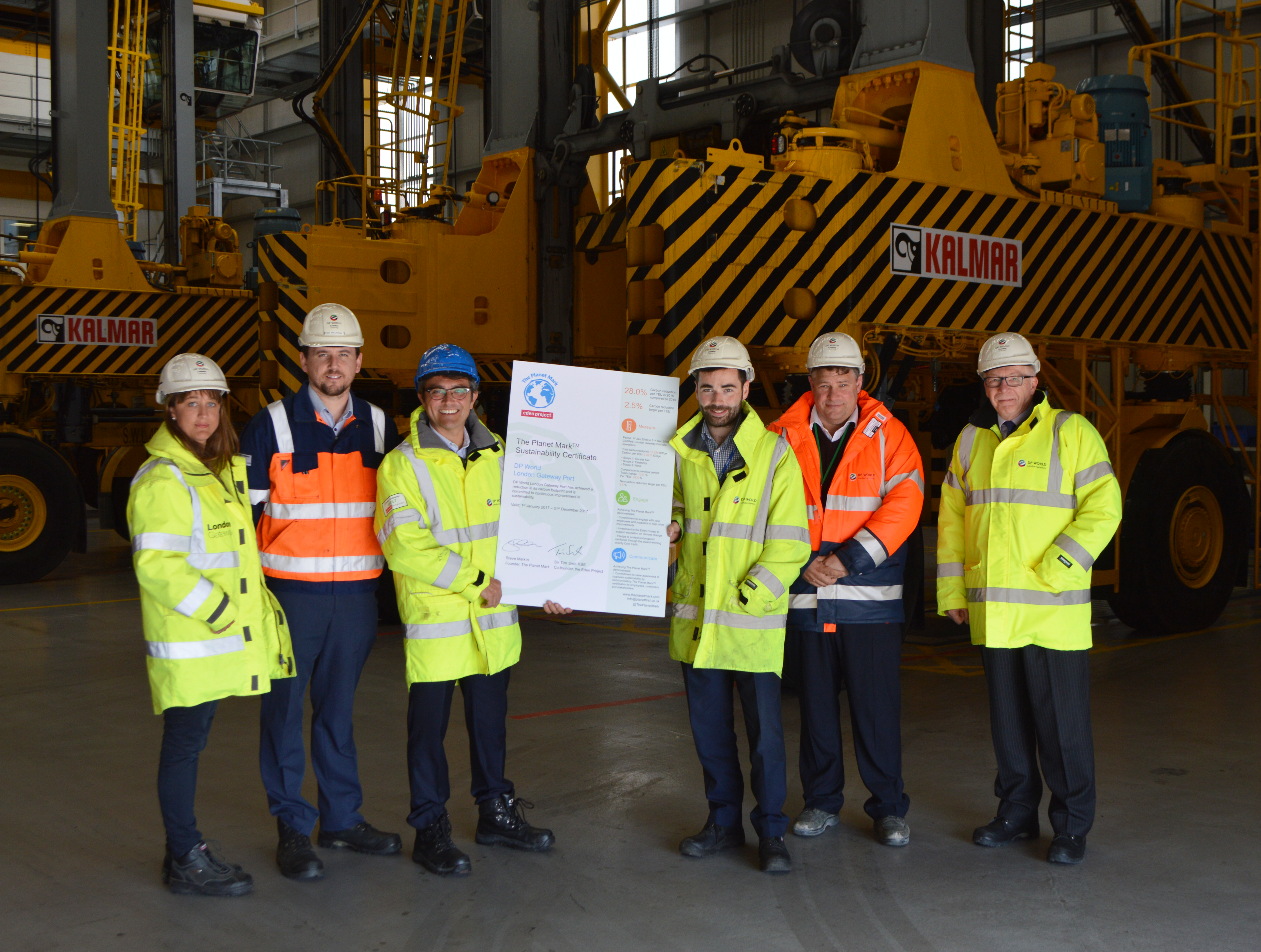 Port management committed to reducing the terminal's emissions by 2.5% per TEU when The Planet Mark™ certification was achieved in 2016, after its carbon emissions were calculated and independently verified as part of the process.
The Planet Mark™ is an internationally-recognised and trusted sustainability certification programme recognising commitment to continuous improvement in sustainability. It is awarded to businesses, properties, new developments and projects that are committed to reducing their carbon emissions year-on-year.
Following the latest annual review of data, it was identified that in 2016, a carbon saving per TEU of 28% had been achieved compared to the baseline set in 2015.
Results of the review were published as DP World London Gateway Port took part in Go Green Week from September 18 to September 22, a global environmental campaign that takes place in ports all over the world.
Go Green offers leading terminal operators the chance to promote environmental awareness and contribute to making a difference in the communities that port terminals are operating in.
Fittingly, the theme for this year's campaign was "Be a Climate Mate", with activities arranged and awareness raised around the impacts of climate change.
DP World London Gateway encouraged its 500-strong team to be even more environmentally friendly, by promoting car share initiatives, green car leasing and provoking thought on how team members can be good "climate mates" at work and at home
"Operating sustainably – that is, providing our customers with the very best service today, while ensuring the quality and strength of the environment is maintained for tomorrow – forms an integral part of the way we work at DP World London Gateway.

"To that end, I am delighted we have been able to continue our rapid business growth and deliver a world-class, highly reliable and flexible logistics offering in 2016, while reducing carbon emissions per twenty-foot container by more than a quarter.

"As an operator touching so many of the UK's imported and exported products, everything we do to be cleaner and greener means that the supply chain operations of our customers and their customers – from retailers to manufacturers – are just that little bit more sustainable too.

"We will not stop here though. Last week we used Go Green Week to promote the importance of being environmentally friendly among the entire workforce and will continue to drive down carbon emissions and invest in innovative, green solutions to maintain and enhance the precious environment and community around us."
Chris Lewis, CEO, DP World London Gateway
"As we witness the effects of climate change impacting people around the world, it's imperative we work together to make a difference.

"The team at DP World London Gateway is doing just that, by constantly finding new ways to cut carbon. We salute the commitment and ingenuity of this hugely important port; it means every product within every container coming through DP World London Gateway carries less carbon than before. That is something truly worth celebrating, particularly just following the Global Ports Group's Go Green Week."
Steve Malkin, Founder of The Planet Mark™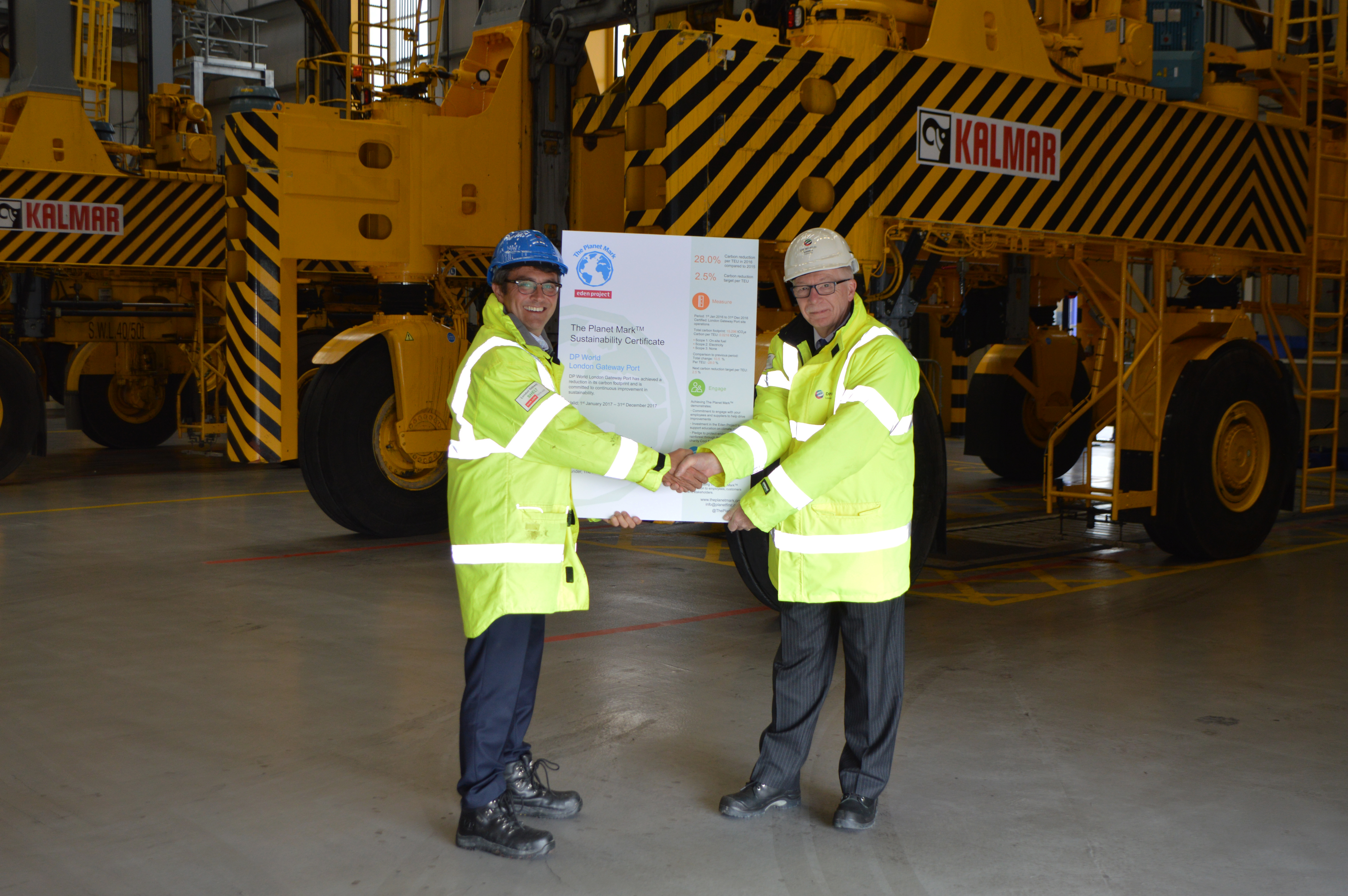 Source: DP World, 27 September 2017