Like many Germans, Thomas Luetje was shocked by President Donald Trump's barbs aimed at his country's exporting prowess.
Unlike most of his compatriots, Luetje is at the sharp end of Germany's vast trade surplus. And when it comes to the potential fallout of Trump's combative rhetoric, the head of container operations at Hamburg's port operator isn't panicking just yet.
"I thought there would be a pre-election and post-election, but no, the tone hasn't changed at all," Luetje said in an interview at Hamburger Hafen & Logistik AG's headquarters in the city's Speicherstadt, a warren of centuries-old brick warehouses squatting over a canal offshoot of the Elbe river. "We just hope, as we say in Hamburg, that he has a healthy dose of common sense — and a few good advisers at his side."
When the U.S. president arrives in Hamburg for the Group of 20 summit, he'll face a skeptical front in a city that was built on trade and has thrived for most of the last millennium as a result. The two-day meeting starting Friday will cast Trump's "America First" protectionist stance against the free-trade mantra of fellow world leaders including Shinzo Abe of Japan, China's Xi Jinping and Canadian Premier Justin Trudeau.
"The discord is obvious," according to the host, Chancellor Angela Merkel, who cites climate change as another area of disagreement with the Trump administration.
Hamburg is synonymous with free trade, and it's no coincidence the city of Merkel's birth is hosting the G-20. As the biggest port in Europe's biggest economy, Hamburg is the gateway to the world for the mighty German exporting industry that Trump has in his sights. That makes Germany's second-biggest city more vulnerable to any downturn than elsewhere.
Trump has pledged to address the "massive" U.S. trade deficit with Germany, threatening retaliation. Merkel has said that any moves toward protectionism and isolation would be "a grave error."
Any trade conflict could have a particular impact on Hamburg, whose economy includes companies such as Airbus SE and Deutsche Lufthansa AG. Hamburger Hafen, whose berths and gantry cranes feed a rail network that supplies broad swathes of central and eastern Europe, says it supports some 150,000 jobs in the city, including builders, river pilots and electricians.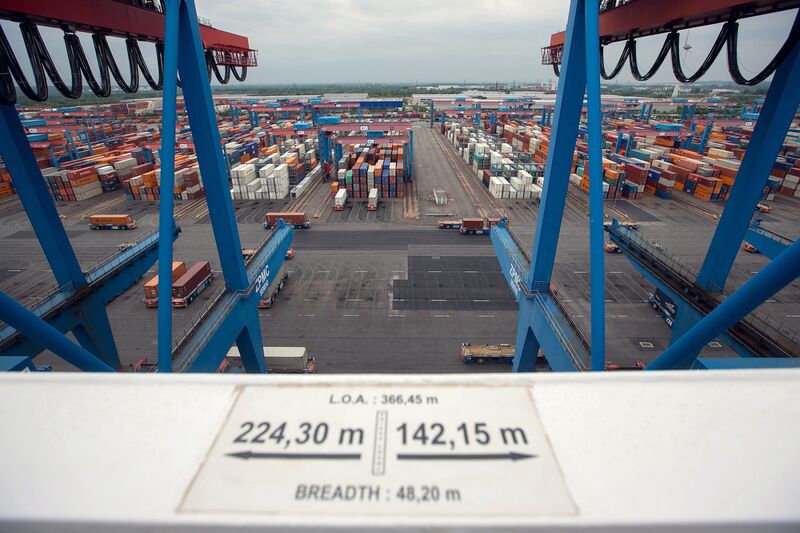 Yet threats to business are nothing new. Situated between the Baltic and the North Seas, Hamburg has been at a crossroads of European trade since at least the 13th century, when it prospered and grew in importance as a member of the medieval Hanseatic League of merchants' guilds. Last year, the port that dominates the city handled more container volume than Los Angeles.
"The port is the DNA of Hamburg," said Hans-Joerg Heims of Hamburger Hafen, or HHLA.
Hamburg is dependent on trade, but not on U.S. business: Russia and Singapore are now more important trading partners than the U.S. So far, Trump's protectionist pronouncements have done little to disrupt the maritime and rail supply chains that underpin the city's commerce, according to Luetje. "As far as exports go, they've sailed astern compared with other big economies," he said of the Americans.
The decisive factor is the city's strong ties with China, which is showcasing its globalizing role through Xi's One Belt, One Road program of deepening trade links with countries along the ancient Silk Road, and has a path to intensify them.
"We certainly don't want to lose the Americans, but the Chinese have a very strong presence and we're far enough along in the sense that we already have close ties with them," said Corinna Nienstedt, director of international activities at the Hamburg Chamber of Commerce. If the Chinese pursue their ambitious trade program — "and they will do it, they want to take the place of the U.S. — then it's not such a bad thing for Hamburg," she said.
Hamburg's port handled more than 2.5 million container units in traffic with China last year, making it the biggest partner country by far, seven times bigger than the U.S., according to the port statistics. Hamburg is home to some 550 Chinese companies, the highest number in Europe, and boasts a Chinese consul.
Rail links between the port and China's interior are being upgraded to allow containers to make the 7,000-kilometer (4,350-mile) journey in two weeks, worth the higher transport costs for some high-end goods.
Trump's protectionist stance is still a concern, but just one to add to growing global barriers to trade along with disruptions caused by automation and technology, Hamburg-based economist Henning Voepel, the director of the HWWI economic institute, said in an interview. Hamburg as a business center "needs to adjust to a new phase of globalization," he said, adding that it's a challenge the city has proven able to meet before.
"Hamburg has adjusted to the flows of globalization for hundreds of years," Voepel said. "There's a trade mentality."
Source: www.bloomberg.com