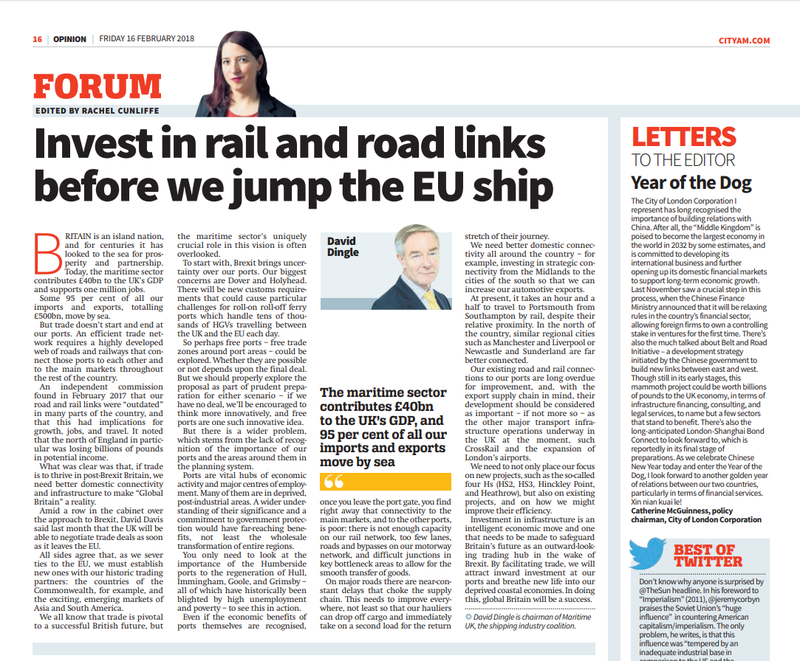 Britain is an island nation and for centuries has looked to the sea for prosperity and partnership.
Today, the maritime sector contributes £40 billion to the UK's GDP and supports 1,000,000 jobs; 95% of all our imports and exports, totalling £500 billion, move by sea.
But trade doesn't start and end at our ports. An efficient trade network requires a highly developed web of roads and railways that connect those ports to each other and to the main markets throughout the rest of the country.
An independent commission found in February 2017 that our road and rail links were "outdated" in many parts of the country, and this had implications for growth, for jobs and for travel.
The report said the north of England in particular was losing billions of pounds in potential income. What was clear was that if trade is to thrive in post-Brexit Britain, we need better domestic connectivity and infrastructure. to make "Global Britain," a reality.
Amid a row in the Government over the approach to Brexit, David Davis said last month that the UK will be able to negotiate trade deals as soon as it leaves the EU. All sides agree that as we sever ties to the European Union we must establish new ones with our historic trading partners––the countries of the Commonwealth––and the exciting, emerging markets of Asia and South America.
Trade is pivotal to a successful British future. But it is not a given that our new approach will be a success and the maritime sector is uniquely positioned to make this "Global Britain," happen.
This means better domestic connectivity all around the country; to invest in strategic connectivity from, for example, the Midlands to the cities of the south so that we can increase our automotive exports.
At present, it takes an hour-and-a-half to travel to Portsmouth from Southampton by rail, despite their relative proximity; in the north of the country similar regional cities such as Manchester and Liverpool or Newcastle and Sunderland are far better connected.
Our existing road and rail connections to our ports are long overdue for improvement and, with the importance of the export supply chain in mind, their development should be considered equally as important––if not more so––as the other major transport infrastructure operations underway in the UK at the moment, such as HS2, CrossRail and the expansion of London's airports.
In other words, we need not only to place our focus on new projects, such as the so-called four Hs––HS2, HS3, Hinckley Point and Heathrow––but also on existing projects, and on how we might improve their efficiency.
Part of the current problem is a lack of recognition of the importance of our ports and the areas around them in the planning system.
Ports are vital hubs of economic activity and major centres of employment. Many of them are in deprived, post-industrial areas. A wider understanding of their significance and a commitment to government protection would have far-reaching benefits, not least the wholesale transformation of entire regions.
You only need to look at the importance of the Humberside ports to the regeneration of Hull, Immingham, Goole and Grimsby––all of which have historically been blighted by low unemployment and poverty––to see this in action.
But our single most pressing problem in this area is that once you leave the port gate, you find right away that connectivity to the main markets, and to the other ports, is poor: there is not enough capacity on our rail network, too few lanes, roads and bypasses on our motorway network, and difficult junctions in key bottleneck areas to allow for the smooth transfer of goods.
On major roads there are near-constant delays that choke the supply chain. This needs to improve, and it needs to improve everywhere, not least so that our hauliers can drop off cargo and immediately take on a second load for the return stretch of their journey.
Investment in infrastructure is an intelligent economic move and one that needs to be made to safeguard Britain's future as an outward-looking trading hub in the wake of Brexit. By facilitating trade we will attract inward investment at our ports and breathe new life into our deprived coastal economies. In doing this, global Britain will be a success.
David Dingle is Chairman of Maritime UK