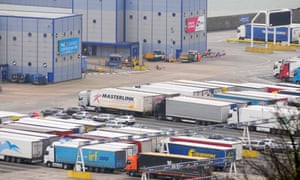 David Dingle, the chairman of Maritime UK, which represents marine and shipping industries, said he was "very nervous" about the future and concerned the government was putting £16bn worth of business in jeopardy with threats of no Brexit deal.
His concerns stemmed, he said, from the reality of developing new customs declarations systems in time to prevent gridlock at ports and their approach roads.
At a briefing on Thursday Dingle said it had taken HM Revenue and Customs "eight to 10 years" to put its latest customs declaration system in place. It is due to go live in October, suggesting a Brexit system will take many years to put in place.
The chairman of Carnival UK, which operates cruises for P&O, said: "Having looked at the time it takes, even in my own company, to build complex new systems, I would be sceptical we will be where we need to be in two years."
Dingle, who will lead a delegation of industry leaders to meet Theresa May and the trade secretary, Liam Fox, on Monday, also criticised the leaked Brexit immigration plans, saying they would be a "straitjacket" for the industry.
"It raises concerns about the principles involved. Was a document like that based on really good analysis? Did it think about the fact that this country is a country with low levels of unemployment and what happens if you literally can't fill jobs?" he told reporters.
It is the first meeting the shipping industry has had with May since the referendum and Dingle said the government needed to take its concerns more seriously.
He warned that there would be an "awful shutdown" in trade if May ended up with no deal, branding such a scenario as "daft".
Asked if he had confidence in HMRC delivering a new system that could do electronic matching of trucks and their cargo to enable continued speed in roll-on-roll-off ports such as Dover and Holyhead, Dingle said: "It has taken an extremely long time to build the new system planned before Brexit – eight to 10 years – and then suddenly it [HMRC] is supposed to have another step change in just two years?
"That makes me nervous. It's why we need to have … a lengthy transition period so that work is completed," he said. "We need to land this. We need to land this in a really sensible and pragmatic way."
Earlier this year the Treasury select committee warned that confidence had collapsed in HMRC delivering a system in time for Brexit.
HMRC warned that it faced a fivefold increase in customs checks after Brexit, with Andrew Tyrie, then committee chairman, noting that the delivery of a Brexit customs declaration system was "in doubt", with HMRC's internal project management rating placing it in a "major risk" category.
Earlier this year, leading freight industry groups including Eurotunnel said the introduction of customs checks at Dover after Brexit could cause gridlock in south-east England, with lorries queueing in Kent for up to 30 miles (48km) to get across the Channel.
Dingle will tell May and Fox that frictionless trade must be a priority in the immediate aftermath of exiting the bloc, coming above any future trade deals with other countries.
Dingle told reporters at a press briefing on Thursday that he wanted the transition period to be extended until frictionless trade could be guaranteed.
"I'm worried how long it's going to take," he said.
Source: www.theguardian.com, 7 September 2017