---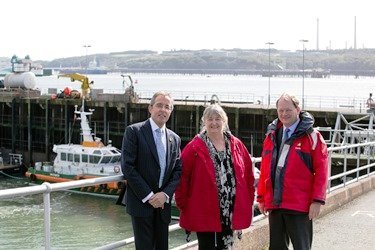 Julie James, Welsh Government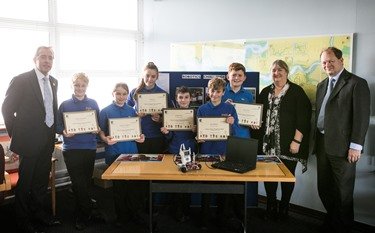 Minister for Skills and Science, visited the Port of Milford Haven today (Thursday, 5th October) to find out how Wales' future generations could become leaders in a Pembrokeshire-based marine renewables industry.
The Minister, whose responsibilities include ensuring school leavers can get access to relevant vocational training, heard how the Port of Milford Haven and its partners are working together to ensure strong skills and education links are built into the infrastructure investment that will transform Pembroke Dock into a marine renewables centre of excellence (one of the Swansea Bay City Deal projects given the green light earlier this year).
The Minister also presented certificates to students who took part in a robotics challenge laid down by the Port, as part of their education outreach programme, and to two of the four local undergraduates who won scholarships and work placements at the Port of Milford Haven this year.
Alec Don, Chief Executive of the Port of Milford Haven, the UK's biggest energy port, welcomed the Minister's visit.
"The Minister has already demonstrated, in visits she has made to businesses in the port, that the Welsh Government is a valuable partner in developing our most important resource – our future generations," said Alec.
"Our staff and students, including those she met today, are key to this region's future prosperity. We want to work with Government to invest in them and develop their skills. After all, they will lead our businesses and communities in years to come," he added.
"The Port is already a key driver of the regional economy, handling up to a third of the UK's seaborne energy needs. Pembroke Dock Marine creates an opportunity for industry and academia to share space and purpose, where innovation thrives and experts are created.  Its success will be measured not just by a successful marine renewables industry, but by how much the industry stimulates and can retain home-grown talent and skills here in west Wales.
Commenting on her visit, Julie James said she welcomed the opportunity to learn more about how the Port is helping develop vocational training.
She said: "Wales is investing in high tech industries which support the creation of good quality and well paid job opportunities. Ensuring Wales has the right skills to meet current and future labour market needs is a key priority for this government and we are committed to working with others to achieve this. It is great to see that Pembroke Dock Marine will be working with the Regional Learning and Skills Partnership and our Apprenticeship Programme to ensure Wales' economy and the skills it requires continue to grow together."
Source: MHPA, 5 October 2017