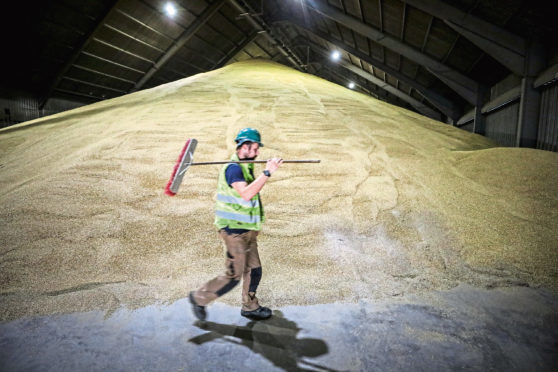 One of the biggest grain-drying operations in the country kicks into action at the start of every harvest and, once in full swing, handles 67 loads of malting barley a day straight from the fields of Angus, Fife and Perthshire.
It is a precision operation that lasts for 12 weeks, employs an additional 10-12 staff, and works in tandem with an intake of wheat, oats and maize together with other key agricultural inputs such as fertiliser.
Every 30-tonne lorry-load of barley that enters the weighbridge is sampled, moisture-checked and quality controlled in port laboratories before it is allocated a drier, and although the 2018 intake is now complete, the port's head of operations, Mark Gaffney, says the work involved in looking after the grain has just begun.
"We have a harvest plan worked out months in advance and there is always an abrupt end to harvest, with the lorries going from 67 to 40 then suddenly it's just 10 a day, and there are always a few stragglers," he said.
"Our job now is to ensure everything in our stores is maintained at the highest quality.
"It's certainly far from a case of just putting it in sheds and forgetting about it.
"We have six people monitoring all the stores and the Trade Assurance Scheme for Combinable Crops (Tasc) governs everything we do as store keepers."
The malting barley is managed for Simpsons Malt at Berwick-upon-Tweed and the company sends lorries to uplift the grain when it is required for malting.
Mr Gaffney makes the point that the Forth Ports are instrumental in the "cradle to grave" story of Scotch whisky.
"We bring in the fertilisers which go out to the farms to grow the grain which comes back to be stored here for the distillers. It's turned into malt and made into whisky which is then exported across the world in containers from our port at Grangemouth.
"And it's a similar story for oats which we store here in Dundee for Quaker Oats at Cupar.
"They get their raw product delivered and stored in our warehouses and they collect it when it's needed and the end product is exported globally through our ports."
Dundee has invested heavily in a suite of new driers in order to build up the agricultural operation which they say underpins business down on the waterfront.
"We went from 20,000 tonnes per year to 65,000 tonnes, with some malting barley now coming from as far north as Aberdeen, and the tonnage is continuing to grow," said Mr Gaffney.
"We have just made another investment of £200,000 in remote temperature probes as grain temperatures have to be brought down slowly and it can be there for 12 months.
"These remote probes are in addition to men physically going in and regularly testing the grain."
Provisional plans for expansion of agricultural commodity facilities at Dundee have been drawn up, and as an alternative to extra flat stores the port is looking at installing silos.
Mr Gaffney said: "Expansion is on the radar – it's something we're tuned into.
"The driers have been a great success and as volume goes up we'll have to put in additional capacity."
The Dundee port also handles around 50,000 tonnes of maize which comes in on vessels from England, France and Germany.
In addition, bulk fertiliser is brought in to be processed and blended to different grades and then hauled to local farms.
The Dundee port's reliance on agricultural trade is replicated at Kirkcaldy where wheat is stored for Carrs Flour Mills.
And exports of seed potatoes are also important for Grangemouth, the largest container terminal in Scotland.
"Jute was, of course, a staple of Dundee's port in the past, and now we have the North Sea oil and gas business and offshore wind farms, but our link with local farmers has grown over the years and more expansion and investment is now a serious possibility," said Mr Gaffney.
"Dundee's heritage as a regional port has relied on the agricultural industries and we value our links with local farmers."
Source: The Press and Journal